Christine A. Gill, MD
» Eye care Products in Middletown Rhode Island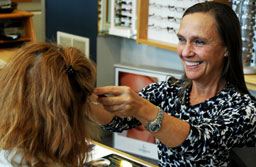 Christine A. Gill, MD products reflect the way she sees the future of eye care. With every new development we fill a need, make a job easier, an outcome safer and vision clearer.
We have a great selection of eye care products from eye drops, to glasses, contact lenses, eye ointment, and eye medication.
If there is a certain product that you are wondering about or looking for we can help you give advice on the product or may be able to get it for you if it is a good fit. Our staff is highly trained on many products to make your visit a great one! We will only give good advice on products.